Plenty of songs have been written about walking in the rain. Butch rode around to Raindrops Keep Falling on my Head; Gene Kelly went Singing in the Rain; Creedence Clearwater Revival asked Have You Ever Seen the Rain;  Milli Vanilli  mimed to Blame it on the Rain; Prince crooned about the Purple Rain; Eddie Rabbit bounced to I love a Rainy Night.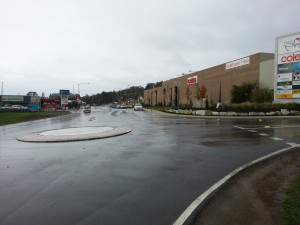 On the streets down my way rain isn't so romantic. I went for a walk around the civic heart of Kingston, looking for meaning.
Somewhere along the way we forgot that streets need character and built buildings that focus inward, their exteriors luring us with brash announcements of the retail treasures that they hold.
What went wrong? When did we forget that streets should be something more than a utilitarian wasteland to move cars as smoothly as possible from one place to another? When did the destination become so much more important than the journey?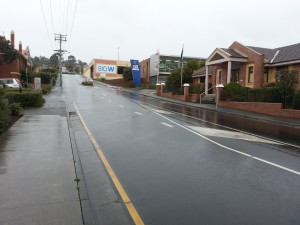 I walked the streets, wondering why there was no one about. It wasn't just the rain, although it certainly didn't help. There was nothing welcoming here. Certainly there were token efforts; pretence at street-scaping: a seat with a view of the cars; a massive chessboard in a courtyard, devoid of pieces but with a glorious view of a purveyor of franchise doughnuts; a few sad trees forced into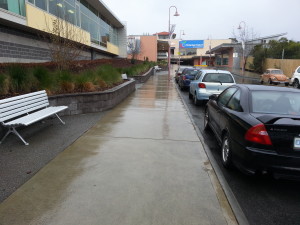 concrete prisons.
We must be able to do better than this. Civic streets are intrinsic to community. We need places for informal interaction; places to share ideas, exchange trivialities, discover common experience. If all that's on offer is car parks and supermarkets our society is poorer for it.
I'd love to meet you in the street, let's plan for it to be a pleasant place.