I've been quiet on this site for a long time, mainly because other things have taken my attention. Council has been engrossing, as usual, especially the preparation for the budget approval.
My day job also demands much of my time and energy. Then there's the everyday demands of running a household, seeing a daughter through year 12 and sending her off to university, and spending time with friends and family.
The state election earlier in the year took up a fair bit of time, running as a candidate for The Greens, as well as helping and supporting other candidates.
I've also been away for some weeks. It was my first trip overseas for many years and a welcome jolt from my normal routine. I really think I see things more clearly and with a broader perspective by getting away. I certainly feel like I'm back with more energy.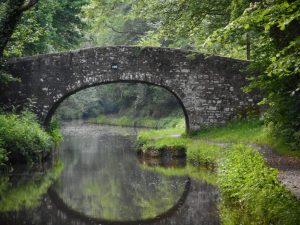 What I really want to write about today, though, is what I've been reading. Anyone who's visited me has seen that I like books and that they tend to pile up around the house, in particular next to my bed. (They don't see all the ones on my Kindle. Adding those would leave no room to sleep.)
I've just finished Technically Wrong: Sexist Apps, Biased Algorithms, and Other Threats of Toxic by Sara Wachter-Boettcher. (http://www.sarawb.com/technically-wrong/)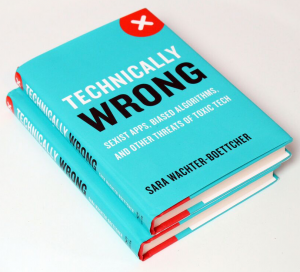 The subtitle was enough to intrigue. My working life has been in tech and I've a passion for social justice so this was right up my alley. The book didn't disappoint. Wachter-Boettcher combines up-to-date anecdotes about today's big tech companies and how they operate with insight into the narrow demographic who are designing computer software that is influencing our lives. If Facebook has sent you a reminder of something from your past that you'd sooner forget, or personalised ads creep you out then I'd recommend this book.
This leads me to Weapons of Math Destruction: How Big Data Increases Inequality and Threatens Democracy by Cathy O'Neil.(https://weaponsofmathdestructionbook.com/) Although I'm only half-way through this one, I'm loving it. O'Neil spend her childhood calculating prime factors of car number plates during long family drives. Unsurprisingly, she studied mathematics and went on to work on big data for a hedge fund through the GFC. This lead her to question how data is being used and abused to create systems that are increasingly deciding who gets to study, who gets a job, and who goes to jail. She has the inside knowledge, the expertise and the conscious to tell this story. I can't wait to get back to it.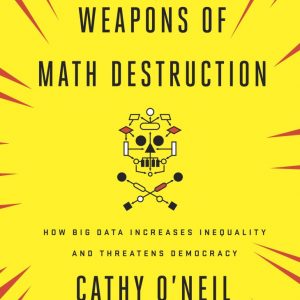 A few weeks ago I went to the Ferntree Tavern to hear Richard Denniss speak about his Quarterly Essay, Dead Right: How Neoliberalism Ate Itself and What Comes Next. (https://www.quarterlyessay.com.au/author/richard-denniss) Denniss is Chief Economist and former Chief Executive of the Australia Institute and I've previously read and enjoyed insightful articles by him in various progressive parts of the Australian media. He was joined on the evening by First Dog on The Moon, who has recently moved to Tasmania. (You can read the details here.)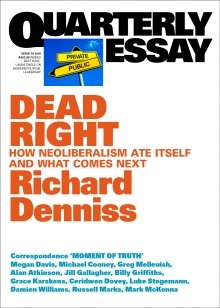 Denniss's clear understanding of where or country is going and how we're being led there is worth a read, if only for the explanation that the Westpac Rescue Helicopter isn't paid for by Westpac.I haven't finished this one either, so I'd better stop writing and start reading.
Before I finish, I should include some fiction. The Way of All Flesh by Samuel Butler. I bought it second hand a few years ago and only just picked it up again. It caught my eye because in Room With A View, the Reverend Mr Beebe finds it at the house of the Emersons and says "never heard of it". First published in 1903, the Introduction to my copy starts with 'The Way of All Flesh is one of those rare books which are loved as much for their effect on their readers' lives as for themselves. Since it first appeared over sixty years ago Butler's novel has seemed to thousands of people peculiarly exciting and liberating.' I can't wait.